Taoiseach Micheál Martin has said the Government's medium-term plan is not just about how we will live with Covid-19 but how we will work to renew social, economic and cultural life.
Speaking at the Government news conference, Mr Martin said the plan contains concrete measures to deal with the spread of the coronavirus.
The plan will involve a risk-ranking system, from a lowest risk level of one to the highest, full lockdown level five.
The entire country is now considered to be at level two.  
Mr Martin said after six months of this pandemic he understands how people are exhausted from thinking about it and coping with it. 
He said "our country has been able to achieve important progress; schools have reopened and the economic stimulus package is making a very real difference".
He said in last 11 weeks over 200,000 people have been able to come off the pandemic payments and go back to work but said most of all we have been able to reconnect with our family and friends.
He said until there is an effective vaccine and it has been widely administered we need to live with the reality that Covid-19 is potentially deadly. 
He said a new plan is a whole of Government approach. 
He said it is broad and comprehensive with three pillars: protecting health, strengthening employment and supporting communities
 
---
---
Mr Martin confirmed that the new plan being announced includes five levels of response to deal with the threat of Covid-19.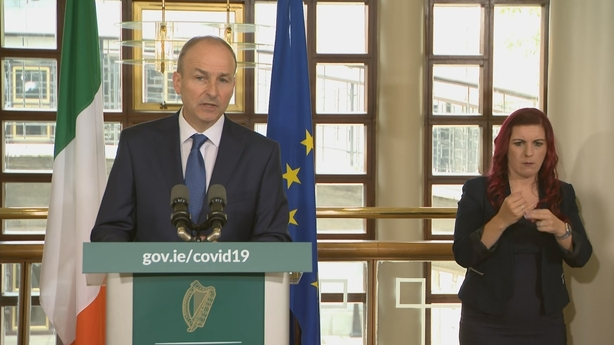 He said that every county is at level two restrictions and collective effort is required to get to level one.
The Taoiseach said that the Government has decided today that that existing public health restricted measures as amended in line with the new level two framework will continue for a further three-week period.
He said the number of Covid-19 cases in Dublin is worrying and the Government has agreed to introduce additional measures to suppress the spread. 
The Taoiseach said the Government has decide to support the European Commission proposals on travel. 
Mr Martin also said that the Government has approved a €600m winter initiative package to develop and protect health services over the coming months.
The Taoiseach said the Government has revised decision-making procedures.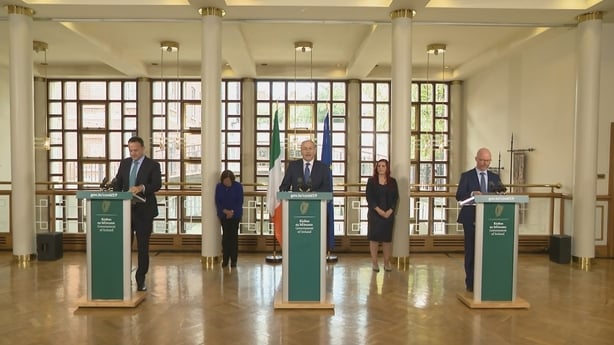 He said National Public Health Emergency Team (NPHET) will remain a key body providing public health advice to Government but there will be a new group that will co-ordinate proposals on implementing measures.
Mr Martin said he valued the work of NPHET but the new group chaired by the Secretary General of the Taoiseach's Department will co-ordinate the public health advice and implement measures and permanent co-ordination between departments will be enhanced.
"This is a comprehensive and detailed plan for how we will respond to the ongoing threat of Covid; limiting its deadly impact, allowing us to move forward as a country", he said.
Mr Martin said the Government has decided to broadly support the European commission proposals on travel as the best way to stay connected and keep supply chains open.
He said the Government will continue to work with member states to come up with a proposal for travel and the current Department of Foreign Affairs travel advisory normal precautions list will be updated.
The Taoiseach said the Government has agreed to allow limited crowds will be allowed to attend sporting events under specific conditions.
He said creativity is important – he said access to theatre and live events will be allowed in small, controlled settings.
The Taoiseach said the plan sets out our determination to strengthen our country's recovery – he said it is only human to feel the downsides of Covid.
He said that the virus "has probed and tested our national character". 
Tánaiste Leo Varadkar has reiterated that by doing the right things we can protect each other. He said he understood that people are feeling frustration and anxious but that nothing is certain about Covid-19.
He said the country has reason to be hopeful because of what we have learned about the virus and the plan being announced today sets out how we can keep the virus under control. 
Mr Varadkar said that businesses have shown remarkable grit, resolve and adaptability in the face of unprecedented challenges. 
He said that the Government will continue to back enterprise and protect workers as best they can, saying the Government will review existing financial supports for businesses in the Budget paying particular attention to businesses that have had to stay closed. 
The Tanaiste also said that the Pandemic Unemployment Payment will not be closed to new entrants as had been planned.
Minister for Health Stephen Donnelly said this road map is about keeping schools and colleges open and to protect lives.
He said Covid-19 is now costing more and taking longer to do less within the health service and because of that, this winter poses the biggest challenge to our healthcare services "in living memory".
Minister Donnelly said details of the €600m winter support package for healthcare will be launched in the coming days.
He said the winter plan has been designed alongside Sláintecare guidelines and it will aim to care for people in the community as much as possible, to add capacity to hospitals and to provide pathways back to the community for discharged patients.
The Minister said the 'flu vaccine will be distributed very widely and that several thousand people are now being hired to run the testing and tracing system.
Using the example of Kildare, he said "we now know when we move quickly and locally… we can  suppress this virus".
The 14-day incidence of Covid-19 in Dublin for every 100,000 people is 95.1, according to the Health Protection Surveillance Centre's latest report. The next highest is Louth on 66.7.
Leitrim is on 65.5 cases, Limerick 63.1 and Waterford 62. The HPSC figures are up to midnight on 13 September.
The number of confirmed cases of Covid-19 in hospitals has increased to 64 up from 57 the day before.
Latest overnight figures from the Health Service Executive show that 11 of these patients are in intensive care units.
Yesterday, the Department of Health said 208 more cases of the coronavirus were diagnosed, bringing the number of confirmed cases to 31,192.
No further deaths have been notified. There has been a total of 1,784 Covid-19 related deaths in Ireland.
The World Health Organization says data to date suggests 80% of Covid-19 infections are mild or asymptomatic, 15% are severe infection, requiring oxygen and 5% are critical, requiring ventilation. 
Generally, you need to be 15 minutes or more in the vicinity of an infected person and within two metres of them, to be considered at-risk, or a close contact.